Home
Welcome to Petts Wood Bowling Club!
Taster Sessions are being held in May - see Open Days for details
Do you want to:
Learn to play bowls?
Improve your game?
Play competitively in club competitions & matches, regional leagues & competitions?
Then a warm welcome awaits you at Petts Wood Bowling Club.
Petts Wood Bowling Club is an inclusive, friendly and successful club that provides sporting and social activities for a cross-section of people from their teens to their 90's. Our club provides support and friendship and actively encourages both people new to the sport as well as experienced bowlers.
Our green is open from late April to the end of September, and during this period we regularly play both home and away against other clubs. In addition to this we play a number of indoor friendlies during the closed season and in an indoor league at Bromley Indoor Bowls Centre.
All levels of skill are catered for and several social events are also held each year to which other family members are welcome.
New members are always welcome, whatever experience or age, and free coaching is provided. Join us to make new friends, enjoy exercise in the fresh air and get hooked on bowling!
A Welcome From Our President Jean ….
"It was quite a long time ago that l first went to Petts Wood Bowls Club to watch my husband play in a social game of bowls. My immediate reaction was that l might quite like the game but there was no way that l would join because of the hideous 'uniform' the ladies were wearing. I did, of course, join and 20 plus years later l am honoured to have been asked to serve a three-year term as President.
Many things have changed in that time, including the dress code, which l am pleased to say is now much more informal and colourful. Like any good organisation, we aim to maintain the spirt of the old traditions and standards of the Club but at the same time embrace fresh ideas and initiatives. I think the club has been very successful in this respect in what is an ever-changing world. We have an excellent team of officers and committee members who work hard to ensure the smooth running of the club as well as very supportive and friendly members.
Take a look at the rest of the website to find out more about us. I hope it will inspire you to give bowls a try."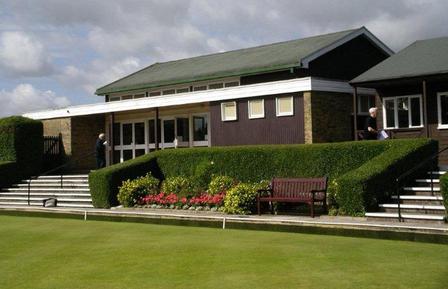 How to find us
Petts Wood Bowling Club is located in Willet Recreation Ground, Crossway, Petts Wood, BR5 1PE (the entrance is between house Nos 41 and 43). There is a small car park adjacent to the green but it is shared with other sports facilities, particularly at weekends. There is ample parking near the green in both Crossway and Wood Ride although Yellow Line restrictions may apply at certain times. Click the picture of our Club House for a map.
Club Overview
Petts Wood Bowling Club was founded in 1934. The men celebrated the Club's 75th Anniversary in 2009; the Ladies' Club celebrated its 75th Anniversary in 2011. Petts Wood Bowling Club and Petts Wood Ladies' Bowling Club amalgamated on 1 November 2012 to form a single club with a unified Management Committee. The combined club is now known as Petts Wood Bowling Club. However, the Club retains separate Ladies' and Men's bowling sections, who work closely together throughout the winter as well as the summer outdoor playing season. On average we have about 60 men and 40 ladies who are playing members, plus a small number of associate non playing members.
We have fun bowls events throughout the year including Bank Holiday Drives, BBQs and buffets and a drink or two as well as pre-season and post-season lunches. Other family members and friends are welcome to attend these events.
We also have Charity events including a Quiz Night to support the Ladies' and Men's Captains Charities which for 2023 are "Bromley Brighter Beginnings" and "Chartwell Unit at the PRUH" respectively.
Some autumns we have bowls tours abroad with both Portugal and Spain visited in recent years.
Club Management
The club is managed by a committee elected annually but it is very much a members' club in which all participate in organisational tasks – many hands make light work!
Please contact one of the Club Secretaries for more information (contact details below).
Management Committee
| Title | Elected Officers | Contact Details |
| --- | --- | --- |
| President | Jean Collins | |
| Ladies' Captain | Mary Plummer | |
| Mens' Captain | Michael Cooper | |
| Ladies' Secretary | Angela Snowden | 01689 831118 |
| Mens' Secretary | David Clark | 07947 601430 |
| Treasurer | David Bellingham | |
| Social Secretary (co-ordinates social events) | Marion Cooper | |
| Green Ranger | Geoff Wooldridge | |
| Clerk of Works (manages Club Premises) | Paul Saunders | |
| BCBCA Representative | Nigel Pickering | |
| | | pwbc.forum@gmail.com |