Petts Wood Bowling Club
Home
Welcome to Petts Wood Bowling Club!
Do you want to:
Learn to play bowls?
Improve your game?
Play competitively in local leagues?
Get fit?
Make new friends?
Enjoy exercise in the fresh air?
Then a warm welcome awaits you at Petts Wood Bowling Club.
Petts Wood Bowling Club is an inclusive, friendly and successful club that provides sporting and social activities for a cross-section of people from their teens to their 90's. Our club provides support and friendship and actively encourages both people new to the sport as well as experienced bowlers.
Our green is open from mid-April to mid-September, and during this period we regularly play both home and away against other clubs. In addition to this we play a number of indoor friendlies during the closed season and in an indoor league at Bromley Indoor Bowls Centre.
All levels of skill are catered for and several social events are also held each year to which other family members are welcome.
New members are always welcome, whatever experience or age, and free coaching is provided.
Recommendation from a recent new member ….
"My wife suggested we tried outdoor bowls after playing indoors for 2 years. We went to an Open Day at Petts Wood Bowling Club and have never looked back. We felt very welcome, were given some coaching and were soon able to adjust our techniques.
The Green and Club House etc buildings are all very well maintained. Working parties are never short of volunteers, and are a good way to get involved in the club by meeting other members and making a contribution.
The bowling is all really well organised - communication at the club is outstanding. There are weekly mens, ladies and mixed umbrellas (roll-ups); a wide range of internal club competitions; and the North West Kent League for the really competitive bowlers. All matches are played in a sporting and friendly manner, and there's always a cup of tea which is a must for my wife!
On the social front there are Bank Holiday specials which involved an excellent BBQ or buffet and a drink or two. There are also events to raise funds for the Captains' charities, the Quiz is a particular highlight. We also went on a great day trip to bowl New Romney Bowling Club.
We feel welcomed like long lost family members and hope to enjoy many years at PWBC."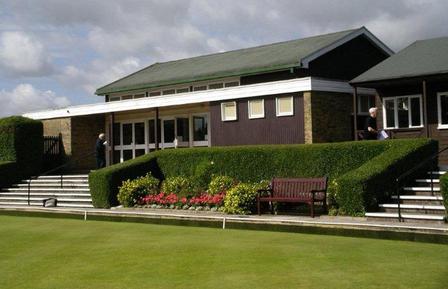 How to find us
Petts Wood Bowling Club is located in Willet Recreation Ground, Crossway, Petts Wood, BR5 1PE (the entrance is between house Nos 41 and 43). There is a small car park adjacent to the green but it is shared with other sports facilities, particularly at weekends. There is ample parking near the green in both Crossway and Wood Ride although Yellow Line restrictions may apply at certain times. Click the picture of our Club House for a map.
Club Overview
Petts Wood Bowling Club was founded in 1934. The men celebrated the Club's 75th Anniversary in 2009; the Ladies' Club celebrated its 75th Anniversary in 2011. Petts Wood Bowling Club and Petts Wood Ladies' Bowling Club amalgamated on 1 November 2012 to form a single club with a unified Management Committee. The combined club is now known as Petts Wood Bowling Club. However, the Club retains separate men's and ladies' bowling sections. We currently have a membership of 118 playing members (47 Ladies and 71 Men) plus 25 Associate members.
Social Events
We have fun bowls events throughout the year including Bank Holiday Drives, BBQs and buffets and a drink or two as well as pre-season and post-season lunches. Other family members and friends are welcome to attend these events.
We also have Charity events including a Quiz Night to support the Ladies and Men's Captains Charities which for 2018 are King College Renal Department and Combat Stress.
Most autumns we have bowls tours abroad with both Portugal and Spain visited in recent years.
Club Management
The club is managed by a committee elected annually but it is very much a members' club in which all participate in organisational tasks – many hands make light work!
Please contact one of the Club Secretaries for more information (contact details below).
Management Committee
| Position | Member | Contact Details |
| --- | --- | --- |
| President | Brian Robinson | |
| Ladies' Captain | Rhoda Evans | |
| Mens' Captain | John Murray | |
| Ladies' Secretary | Angela Snowden | 01689 831118 |
| Mens' Secretary | Reg Johns | 01689 870044 |
| Treasurer | David Bellingham | |
| Social Secretary | Bronwen Jones | |
| Green Ranger | Geoff Wooldridge | |
| Clerk of Works | Ray Poulton | |